Achieving Digital Equity for Community Justice – CETF Progress Report 2023
The Digital Divide is another facet of the Economic Divide stemming from concentrated and persistent poverty rooted in systemic racism. Thus, closing the Digital Divide must address the inter-related factors and forces that we call the "wall of poverty" that make it very difficult for low-income residents to escape oppressive economic conditions and to succeed in school. This reality screams for systemic change and is why the California Emerging Technology Fund pursues Digital Equity as a 21st Century Civil Right and an imperative for Community Justice.
California is home to deeply-dedicated and extensively-experienced Digital Equity Champions who have been trailblazers for years in helping low-income households and digitally-disadvantaged residents get connected to the Internet with high-speed infrastructure and affordable home service. They include non-profit community-based organizations (CBOs) who are the original "Digital Navigators" doing outreach in-language and in-culture as trusted messengers and the Regional Broadband Consortia who engage a wide spectrum of civic organizations to drive policy and action locally. Since the pandemic exposed a "Digital Cliff " for unconnected households— literally falling into deeper isolation and greater economic hardships without Internet service—additional leaders have stepped forward to help close the Digital Divide. Most notably are the Southern California Association of Governments (SCAG) and San Diego Association of Governments (SANDAG) under the umbrella of Southern California Transformation representing 216 Local Governments and 60% of the state's population. SANDAG and SCAG have adopted Digital Equity policies, developed strategic plans for Deployment and permit streamlining, and launched focused campaigns for Adoption. Counties and Cities, County Offices of Education, School Districts, philanthropic foundations, private companies and business organizations, labor unions, and non-profit human service groups also have embraced Digital Inclusion to add significant momentum for Institutionalization. The importance of this work has been elevated by the Governor and Legislature taking groundbreaking action to make California a national leader.
The Governor's 2019 Broadband For All initiative and 2020 Executive Order established the essential focus. In 2021 the Legislature and Governor approved $6 billion for high-speed Internet infrastructure and authorized $150 million annually for the California Advanced Services Fund to close the Digital Divide. The California Broadband Council adopted a goal to get 90% of all low-income households online by 2024. State Agencies are actively implementing these actions and preparing the Digital Equity Plan and Broadband Equity Access and Deployment (BEAD) Plan pursuant to the Infrastructure Investment and Jobs Act (IIJA) to secure California's fair share of federal funds to augment State resources. The challenge now is to overcome bureaucratic inertia and break through organizational silos with commitment and urgency to achieve Digital Equity and Community Justice for all Californians.
It is only a matter of LEADERSHIP.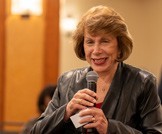 Sunne Wright McPeak
President and CEO
California Emerging Technology Fund