Internet Connectivity and the "Digital Divide" in California Households is a summary report of the CETF 2015 survey that tracks the progress of broadband deployment and adoption throughout California.  The poll found wide differences in broadband connectivity in nation's largest state: 79% percent of California households have a broadband connection at home, while 21% do not, citing cost of internet service as major reason that home broadband adoption rates have have left the hardest-to-reach Californians unconnected.  The statewide goal is to achieve 80% home adoption by 2017, with no single demographic group or region below 70%.
According to the Field Poll, demographic groups with home broadband adoption rates, including those using a smart phone only, that fall more than 10 percentage points below the 2015 state home broadband adoption* average of 79% include: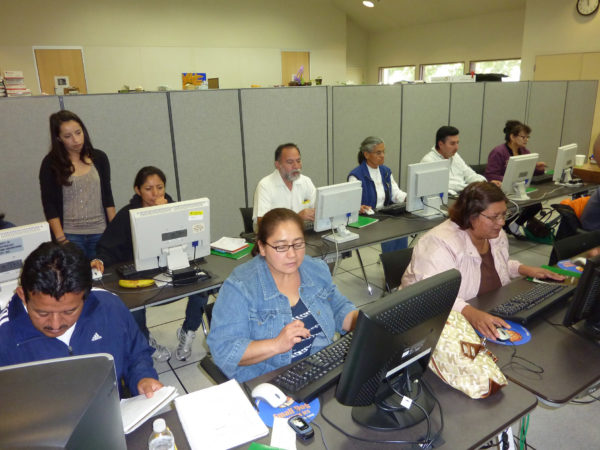 52% of households with no high school diploma subscribe to broadband
57% of seniors (65+) subscribe to broadband
59% of People with Disabilities subscribe to broadband
63% of Spanish-speaking households subscribe to broadband
65% of households earning less than $20,000 subscribe to broadband
68% of Non-Citizen households subscribe to broadband
"The poll details how the lowest-income, least-educated Californians are living without an essential tool to access the educational, employment, healthcare and civic engagement opportunities that lead to self-sufficiency and a better quality of life," said Sunne Wright McPeak, President and CEO of the California Emerging Technology Fund. "We call on the FCC to enact meaningful reforms to Lifeline now that will enable the neediest among us to connect to broadband from home, and not just from a smart phone. We also continue to urge the FCC to hold companies under merger review accountable for delivering a real, measurable public benefit in the form of affordable broadband at home and digital literacy programs."
The CETF Annual Survey, this year in collaboration with the 2015 Field Poll, has been conducted since 2008. Please see the CETF Press Release and the Field Poll Press Release issued on June 16, 2015.
We welcome your comments on the survey results and your suggestions on questions or demographic information that should be included in future surveys. Your assistance to better understanding how broadband and digital technologies can improve the economic productivity and quality of life for all Californians is appreciated.  Please contact susan.walters@cetfund.org if you have any questions.
*This percentage includes adults accessing the Internet at home with a smartphone or through DSL, cable, satellite or fiber optic connections to a home desktop, laptop or tablet computer.