Transforming Schools and Neighborhoods through Digital Inclusion
June 5, 2019 @ 8:30 am

-

5:30 pm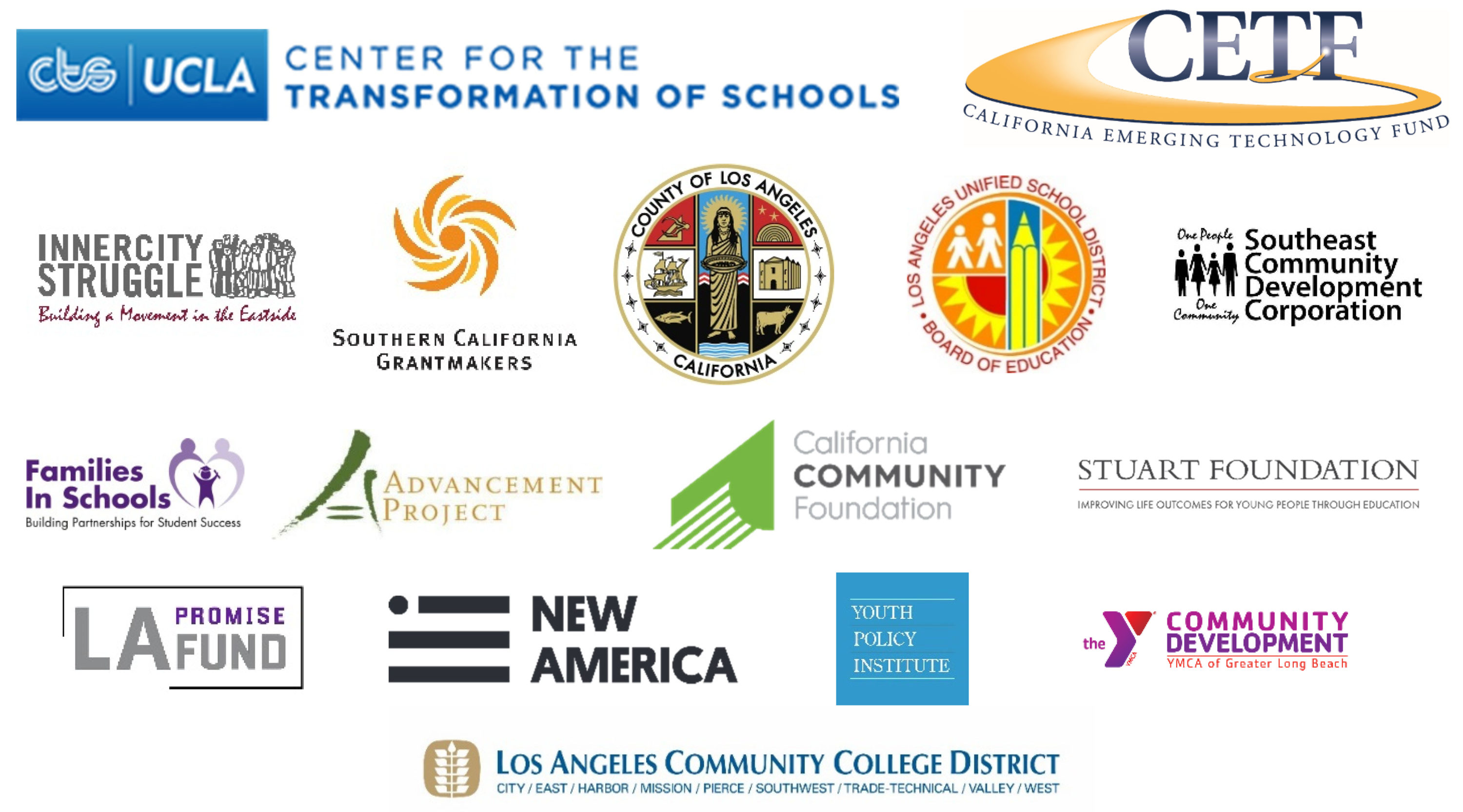 Mobilizing Communities for Leadership in the
High-Tech Sector in the Los Angeles Region:
Transforming Schools and Neighborhoods through Digital Inclusion
Wednesday, June 5, 2019
The Optimist Room
Breakfast 7:30 AM
Program 8:30AM – 3:30PM
UCLA Meyer and Renee Luskin Conference Center
425 Westwood Plaza
Los Angeles, CA 90095
Directions and Parking
FEATURED SPEAKERS
Móníca García, President
Los Angeles Unified School District (LAUSD) Board
Manuel Pastor, Professor of American Studies & Ethnicity
University of Southern California (USC)
Frances Gipson, Chief Academic Officer Division of Instruction
Los Angeles Unified School District (LAUSD)
Francisco Rodriguez, Chancellor
Los Angeles Community College District (LACCD)
Kamau Bobb, National STEM Expert, Founding Senior Director
Constellations Center for Equity in Computing
Georgia Institute of Technology
Oscar Menjivar, Founder and Chief Executive Officer
Teens Exploring Technology
Jaime Casap, Education Evangelist, Google
JR DeShazo, Chair, Department of Public Policy
University of California, Los Angeles (UCLA)
Gary Segura, Dean, Luskin School of Public Policy
University of California, Los Angeles (UCLA)
Heather Hiles, President and CEO
California Online Community College
Eric Garcetti, Mayor
City of Los Angeles
 Background
 The Social Science Research Council's Portrait of Los Angeles sponsored by Southern California Grantmakers provides a clear and disturbing characterization of life in one of America's most populous metropolitan areas.  The report reveals stunning differences in quality of life that are highly correlated with geography as well as race/ethnicity and the socioeconomic composition of communities.  Utilizing the "Human Development Index" as its barometer, the report shows that in critical areas such as health, education, and income, gross inequities limit access to opportunity for many residents and contribute to the persistence of deeply entrenched social and economic disparities.
These inequities are exacerbated by the Digital Divide:  the disparities in access to technology and the Internet that prevent the most disadvantaged households from fully participating in the 21st century economy.  In Los Angeles County, many residents in the poorest communities are not able to get online at home and are unable to participate fully in the digital world.  This impacts their ability to apply for jobs, access public services or communicate with their children's teachers.  For children in these communities who often attend under-resourced schools, the disparities in access to technology contributes to the disadvantages they face in preparing themselves for college and future careers that make it possible to break the cycle of poverty.  These inter-related factors and forces of economic disparities in communities with concentrated and persistent poverty constitute a "wall of poverty" that can be tackled only with a comprehensive, multi-faceted strategy that transforms schools and neighborhoods with greater impacts at scale than accomplished to date.
Civic leaders and community organizations are partnering to convene thought leaders and policymakers to develop a Partnership Framework to align and integrate public and private resources and actions in low-income neighborhoods, building upon existing education improvement initiatives, place-based interventions, and digital inclusion strategies to change systems through purposeful collaboration with increased accountability for greater impact and better results for residents.  It is envisioned that the Conference will provide the input to develop a "Partnership Framework" for changing systems to achieve improved outcomes.
Conference Goals
Explore possibilities for developing strong and sustainable partnerships among education, local government, and employers to address systemic issues related to inequality in the Los Angeles Region.
Identify existing efforts and strengthen new regional strategies for Digital Inclusion for youth and families.
Elevate and strengthen current efforts that promote the development of educational and professional pathways in the high tech sector and emerging industries for low-income youth in the Los Angeles Region.